UNDERNEATH EVERYTHING
by Marcy Beller Paul
EXPECTED PUBLICATION: 27 October 2015, Balzer+Bray
GENRE: Contemporary, Romance, Young Adult
PAGES: Hardcover, 304 pages
SOURCE: eARC provided through Netgalley
---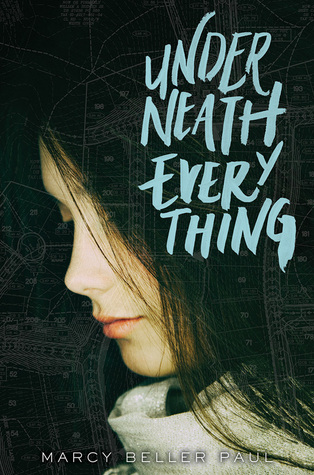 UNDERNEATH EVERYTHING
Mattie shouldn't be at the bonfire. She should be finding new maps for her collection, hanging out with Kris, and steering clear of almost everyone else, especially Jolene. After all, Mattie and Kris dropped off the social scene the summer after sophomore year for a reason.
But now Mattie is a senior, and she's sick of missing things. So here she is.
And there's Jolene: Beautiful. Captivating. Just like the stories she wove. Mattie would know; she used to star in them. She and Jolene were best friends. Mattie has the scar on her palm to prove it, and Jolene has everything else, including Hudson. But when Mattie runs into Hudson and gets a glimpse of what could have been, she decides to take it all back: the boyfriend, the friends, the life she was supposed to live. Problem is, Mattie can't figure out where Jolene ends and she begins. Because there's something Mattie hasn't told anyone—she walked away from Jolene over a year ago, but she never really left.
Poignant and provocative, Marcy Beller Paul's debut novel tells the story of an intoxicating—and toxic—relationship that blurs the boundary between reality and fantasy, love and loyalty, friendship and obsession.
[ Amazon ] [ Barnes & Noble ] [ Book Depository ] [ iBooks [ Kobo ]
---
 Marcy Beller Paul is a young adult author, former editor, and full-time mom who still has all the notes she passed in seventh grade (and knows how to fold them).
She graduated from Harvard University and lives in New Jersey with her husband and two children. Underneath Everything will be published by Balzer + Bray, an imprint of HarperCollins, in Fall 2015. It is her first novel.
[ Amazon ] [ Facebook ] [ Goodreads ] [ Instagram ] [ Twitter ]
---
THIS BOOK. IS. HELLA. WEIRD.
Okay, first, let me talk about the characters. Mattie is hella annoying. Her relationship with everyone makes no sense. And when I say everyone, I mean everyone. Mattie is very problematic. In one simple phrase, everybody knows her better than she knows herself. And the sad thing is, she thinks she knows what she's doing. It's unfortunate. And that, my dear friends, is what made her very annoying to me. Don't hold it against anybody – I just can't deal with those kinds of people. But you see, people, that's just Mattie. Let's move on to Hudson. Okay, at first I really liked Hudson but as time passed by, he turned very unappealing. I mean, who doesn't fall for mysterious, edgy dudes? But somewhere, somewhen, somehow, something went wrong and he became everything I don't want. Well, yeah. He took a left instead of right and that is the story of how we went down. Next up is Kris. Okay, I like Kris. End of the story. And then there's Bella – who is basically a filler. Basically nothing. I understand how there were the four of them but in the story deeply, she did nothing. She came and went. Now for Jolene. She's dangerous. She's the saddest of them all. She's going down in the wrong road. She has a sad tale of walking alone and… nothing else. That's just who she is.
Moving on, through all the things I said about the characters, I am here to tell you that this book is deep as heck. It had that different feel to it – like, the other books are made of cotton and this is of silk, that kind of different feel. The writing was beautiful. There are tons of quotable quotes everywhere, you don't even have to look. Actually you do, you have to look for a notebook or paper and pens or whatever because you have to be ready. Honestly, I expected this to be a chill read – like, I'd be cool and calm but no, this book is hard to put down. It's hard to stop anywhere. It moves so fast yet it feels like you're not moving at all. It is way too easy to get caught up in this hurricane and when it ends, you're left wondering what the heck just happened. Because that was how it was to me. I stayed up until 2 am for this and let me tell you that the ending is worth it. Talk about character development.
JUST.
THAT.
ENDING.
I'm happy about the ending. It was for the best for the most of them – most, excluding Jolene. She needs serious help I swear. It was a lesson learned and I hope, Mattie stays in the lane of progress. I believe that people can change and I think, Mattie can do it. She's on for a better her, better life. And I love that. So here's to everybody because literally everybody needs to read this. It's cute, it's annoying, it's real in the realest levels, and romantic in a funny way. But most of all, this book is deep as heck.
---
---
Win a signed first edition of Underneath Everything by Marcy Paul (US ONLY) 
---